Residential Garage Door Opener Installation
Looking for a new garage door opener installation service today? We Can Help! Dynamic Garage Doors Inc is the lead installer of residential home & commercial garage door openers in the USA. We provide and install new garage door openers for all types of garage doors that offer advanced security and convenience to your garage, family, and home. Having a working garage door opener available in the worst weather provides excellent comfort for entering and exiting your home.
This particular direct diver opener is mounted on the wall right beside your garage door. With its mounting style, this specific direct-drive opener saves up a lot of ceiling space. The direct drive offers an optional power standby system as well. With this particular option, the opener continues to work even after the power goes out, which assures energy efficiency. The only moving part in the direct drive is the motor, which makes it extremely reliable and quieter than a belt drive. It comes with advanced security features to prevent damages and sensors that are designed to reverse lift whenever a barrier is detected.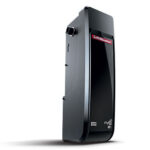 product photo LiftMaster Model 8500
Series: Elite & Drive: Direct
Force: 24V & Motor Warranty: Lifetime
Parts Warranty: 5 Years
The LiftMaster Model 8500W model is a perfect choice if you have an oversized garage door. Its motor features a soft start and soft stop, which results in quiet operation. The optional EverCharge® Standby Power System operates your opener even when the power goes out. The MyQ® technology in this elite series opener allows you to control and monitor your garage door using a smartphone from anywhere in the world.
The belt driver openers are known for an extremely quiet operation as they use a rubber belt rather than a chain. An ultimate smooth performance is assured with this particular kind. The belt driver offers smooth-running power along with highly reliable performance on a yearly basis. These serve as the perfect choice for homes that consist of living space above or right next to the garage. These high-strength belt drives will easily handle the weight loads of residential garage doors. It comes with the DC Motor Belt System, which is not only powerful but also ultra-quiet and consumes 75% less energy on standby mode.
LiftMaster Model 8550
Series: Elite
Drive: Belt
Force: 900 Newtons
Motor Warranty: Lifetime
Parts Warranty: 5 Years
The Liftmaster 8550WLB model is the quietest belt drive opener. When the power is out, its integrated battery backup feature ensures smooth operation when there is no power available. It is equipped with integrated Wi‑Fi®, which enables the control of the door via a smartphone with the free myQ® app. For additional security of your home, you can add up to 2 door locks in this type of opener.
LiftMaster Model 8557
Series: Elite
Drive: Belt
Horsepower: 3/4
Motor Warranty: Lifetime
The garage door opener has a standard design, which makes it easy for installation. The elite series LiftMaster model 8557w has an AC motor instead of a DC motor that offers more power. It allows quick and smooth opening and closing of the door. When you open the door, its lights automatically turn on and turn off after 5 minutes of the door closing. This energy-efficient opener consumes only 1 watt on standby and also has a unique battery backup for emergencies.
LiftMaster Model 8355
Series: Premium
Drive: Belt
Horsepower: 1/2
Motor Warranty: Lifetime
Parts Warranty: 1 Year
The LiftMaster Model 8355W ½ HP Belt Drive Opener is a smooth-running and quiet opener. The ½ HP heavy-duty motor has a patented Motor Vibration Isolation System (MVIS®) that helps in reducing noise by eliminating powerhead vibration. This premium series opener is controllable with a smartphone because it is equipped with built-in MyQ® technology.
●       Liftmaster Model 85503W with Camera
The Liftmaster Model 85503W is the quietest opener that features integrated battery backup, built‑in Wi‑Fi® that make it controllable with the myQ® app no matter wherever you are in the world. The best part about this unique opener is that it has an integrated camera that records and provides live video streaming when motion is detected. Besides the camera, it also has an integrated microphone that allows 2‑way communication with the person in your garage.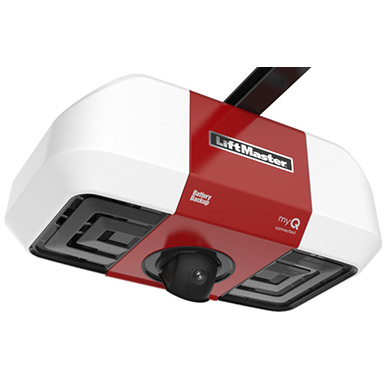 ●       Liftmaster WLED
The LiftMaster WLED door operator features built-in high-powered LED lights, motion detection sensors, EverCharge® Standby Power System, WiFi control, and recharges automatically when the power comes back. It has bright LED lights that will automatically turn on when the motion detectors detect someone coming in. This opener includes MyQ® Technology, which allows you to operate your garage door from your tablet, computer, and smartphone, from anywhere through Wi-Fi connectivity.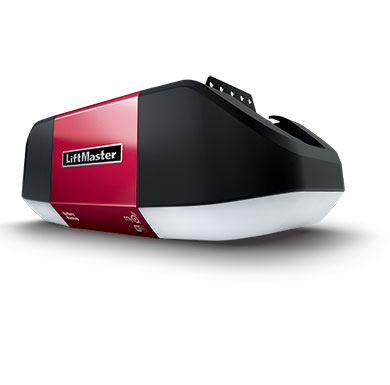 These openers are chain driven. The chain drive openers are highly reliable and are relatively more durable. If you are looking for long-lasting performance, then chain drive openers are the perfect choice for you. The chain-driven garage door opener is one of LiftMasters's best selling openers that features advanced industry-leading technologies. They are built to handle heavy doors with ease. The chain drive garage door openers used on the residential garage door have greater lifting capacity and higher tensile strength than belt drive. We at Dynamic Garage Doors Inc have the following type of chain drive openers:
LiftMaster Model 8587
Series: Elite
Drive: Chain
Horsepower: 3/4
Motor Warranty: Lifetime
The LiftMaster 8587W model, with ¾ horsepower strength, is one of the best professionally-installed garage door openers. It is designed specially to lift the heaviest garage doors and offers a 2-speed dual sprocket customizable to door requirements. The rugged I-beam rail and patented MVIS® (Motor Vibration Isolation System) also makes it one of the quietest chains drives on the market.
LiftMaster Model 8360
Series: Premium
Drive: Chain
Force: 800 Newtons
Motor Warranty: Lifetime
Parts Warranty: 1 Year
The LiftMaster 8360WLB with a Battery Backup System ensures your garage door opener works when the power is out. The reliable 8360WLB DC chain drive has a built‑in MyQ® technology that lets you control and monitors your door with smartphones. Its durable motor has a lifetime warranty.
LiftMaster Model 8365
Series: Premium
Drive: Chain
Horsepower: 1/2
Motor Warranty: Lifetime
Parts Warranty: 1 Year
The LiftMaster 8365W model chain Drive Garage Door Opener is the ideal choice if you want reliability with style. The ½ HP motor provides steady performance and lifting power. It gives visual and audio warnings when the garage door is about to close. On standby mode, it consumes up to 75% less energy.
All these above-mentioned high-quality openers are manufactured by the Chamberlain group and have a lifetime Guarantee on motors. Browse garage door openers at Dynamic Garage Doors Inc with the latest security and technology features!
Our Professional Opener Installers
The best part of hiring Dynamic Garage Doors Inc experts is that our professional installers are licensed and insured. They not only install a new garage door opener but can repair other major and minor defects in your doors. Whenever you call us, our professional garage door opener installers immediately arrive at your home to install a new garage door opener in the least possible time. Our skilled installer will be open to answering all your questions to reassure you that you have made the right choice, and your garage will open smoothly and quietly every time.
Browse our website today to see the high-quality garage door openers series and choose the one that is right for your garage door. Contact us at Dynamic Garage Door Inc to get reliable garage door opener installation services from our experts!